TTSK

– (Arsenal 3-1 Burnley). Premier League matchday 12. Arsenal completely dominated Burnley, from form, strength to confrontation achievements. Arsenal won against Burnley to put pressure on top team Man City.
Video Arsenal 3-1 Burnley
It was not difficult for Arsenal to gain control of the match. However, Burnley was the team that created the first notable situation. In the 8th minute, Amdouni shot very hard from long range, testing goalkeeper Raya. It took until the 20th minute for Arsenal to respond with Saka's shot, but Burnley's Trafford goalkeeper still had time to block and push the ball against the crossbar.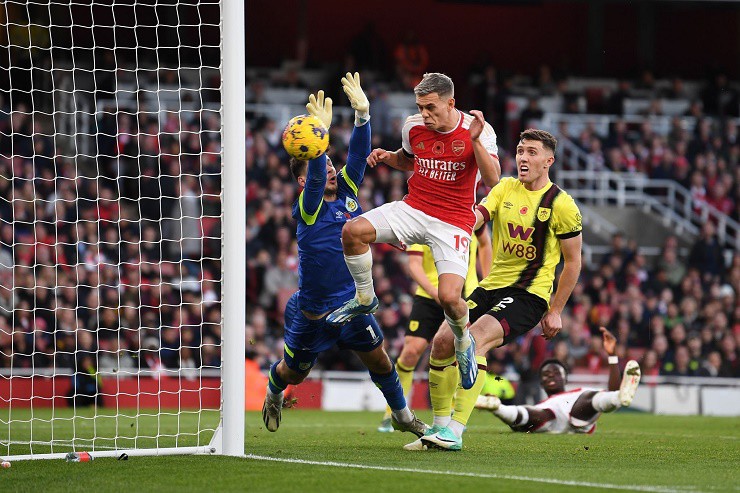 The majority of Arsenal fans had a heart attack in the 31st minute. Saliba's mishandling of the ball turned into a pass that opened up a chance for Gudmundsson to face and fortunately for Arsenal, goalkeeper Raya had excellent reflexes to correct his teammate's mistake. .

It seemed like the first half ended without a goal, but in injury time, Arsenal broke the deadlock. From Zinchenko's cross on the left wing, Saka jumped up and headed the ball tactically in the penalty area, allowing Trossard to bravely rush in and finish the ball from close range into Burnley's net.
In the second half, Burnley rose strongly and found the equalizer. In the 54th minute, Brownhill shot from the second line, hitting Gabriel's foot and redirecting it into the net in the helplessness of goalkeeper Raya. But just a few minutes later, Arsenal regained the lead with Saliba's high header.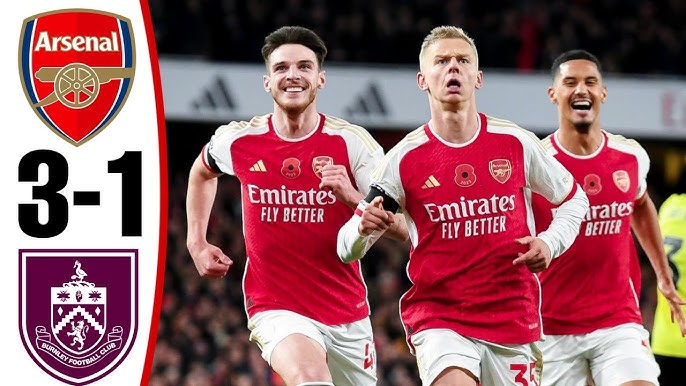 The more Arsenal plays, the more excited they become. In the 74th minute, Zinchenko threw an impromptu shot in the penalty area, causing Burnley goalkeeper Trafford to just stand still and watch the ball go into the net.

At the end of the match, Arsenal played with only 10 people when Fabio Vieira received a straight red card after a dangerous tackle. However, the remaining short time was not enough for Burnley to close the 2-goal gap and had to accept leaving empty-handed.
With this victory, Arsenal now has 27 points and surpassed Tottenham to temporarily occupy 2nd place in the Premier League rankings. The "Gunners" were equal on points with leading team Man City before the defending champion had a difficult away trip to Chelsea's field.

FT: Arsenal 3-1 Burnley

Scored

Arsenal: Trossard 45+1′, Saliba 57′, Zinchenko 74′

Burnley: Brownhill 54′

Red card

Arsenal: Vieira 83′

Start lineups

Arsenal: Raya; White, Saliba, Gabriel Magalhaes, Zinchenko; Havertz, Jorginho, Rice; Martinelli, Trossard, Nketiah.

Burnley: Trafford; Vitinho, O'Shea, Beyer, Taylor; Gudmundsson, Berge, Brownhill, Koleosho; Rodriguez, Amdouni.
Arsenal will temporarily put aside the Champions League to prepare for the reception of Burnley in round 12 of the Premier League. In fact, Arsenal will not have too many days off before the match against Burnley. Therefore, coach Mikel Arteta will have to make calculations in terms of personnel, especially recently, both Saka and Takehiro Tomiyasu are hurt and it is unclear whether they can play or not. In addition, many other cases are still being sidelined, which will affect the Gunners' force in the context of them having to play with a tight schedule.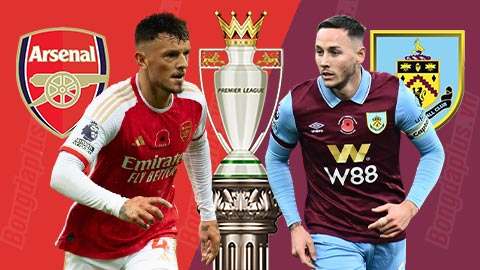 The good news for Arsenal is that Burnley is a fairly "soft" opponent for Mikel Arteta and his team. Since being promoted, Burnley has only won 1 match and is currently ranked 19th with only 4 points. At this time, Burnley's form is very bad with all 5 recent matches lost, including 3 away matches. As for Arsenal, they have not lost at home since the beginning of the season. It seems that in this encounter, Arsenal will have fun again.
Maika